Are you looking for the best golf simulator to help take your game to the next level this year?
While everyone wants to conquer this sport (even Tiger Woods), avid golfers will do nearly anything to shave a few strokes from their game. That includes buying any training aid or golf gadget available… including a golf simulator!
First, I must say I think that golf simulators are one of the coolest things ever. They are like a giant 3D video games for the child that lives inside us all and can help us shoot lower scores. They make it easy to go into your garage or spare room, play a quick 18 holes at the most famous courses in the world and still make it to work on time.
Just imagine what it would be like to walk down the hall to a spare room or walk into your garage and play a full 18 holes after the kids go to sleep? How cool is that?
Thanks to this amazing technology, it's never been more realistic to play golf without having to leave your house.
If you're looking for a golf simulator, it's safe to say that you are one of the most committed golfers on the planet. But so many golf gadgets, there are tons of options to choose from and can feel a little overwhelming.
Some are a few hundred bucks while some are $30,000 or more (and the wife probably won't okay that purchase). Needless to say, there's a budget option for every golfer out there.
In this post, we'll cover the best golf simulators on the market to make sure you have everything you need to make an educated buying decision. Before diving in, it's important to understand what a golf simulator is and how one works to make sure you have the room and equipment to make it happen.
What is an Indoor Golf Simulator?
So what is an indoor golf simulator anyways?
A home golf simulator is an indoor device that allows you to practice and play a full round without ever leaving your house. Golf simulators are great if you have extra space and/or live in place with bad weather that limits your time on the links.
No, this isn't some video game version of golf that your kids play on a console either. With golf simulators, you are using a real golf club to take full swings and see very similar results. It's as if you are actually playing outside or hitting on the range.
You probably know what I'm talking about as chances are you've probably used a golf simulator at your local golf store when trying out clubs before. They're great to help get instant feedback and compare golf clubs for a side by side comparison.
For the Short Attention Spans: Our Favorite Golf Simulators
Now back to the article for those that want to know the research.
How Does a Golf Simulator Work?
A traditional golf simulator has a large screen that is connected to a computer with sensors that are designed to capture all the data for your shot. Depending on the simulator package, you also need a computer or iPad, net, launch monitor and projector for it all to work together. As soon as your ball hits the screen, the data is sent to the computer to instantly display your results.
Typically, with most golf simulators, you get data such as speed, distance, spin, shot angle, and shot trajectory. The more high-end simulators will deliver even more data, record your swing, and let you save specific shots or entire rounds. It's like you have your own ESPN Sportscenter of your best golf shots.
What You Need for a Home Golf Simulator
If you're like most golfers, you're probably asking yourself questions like:
"What do I need for a golf simulator?"
"How much does a golf simulator package cost?"
"What size room do I need for a golf simulator?"
And probably a million other questions for your new game improvement tool.
But one of the biggest struggles is figuring out exactly what you need to make a DIY golf simulator. While some provide everything in a simulator package (they usually cost nearly $5,000 or more), others make you piece it together. 
To create your own indoor golf simulator package, you need:
Projector
Hitting mat
Launch monitor
Computer or laptop
Simulator screen (or net)
Golf simulation software/subscription
Plus, you can also add on accessories like side nets for your simulator screen, a bay for your golf balls, or maybe even an indoor putting green. Now that you have a better understanding of how simulations work and what you need, here are some of the most popular options available for every budget.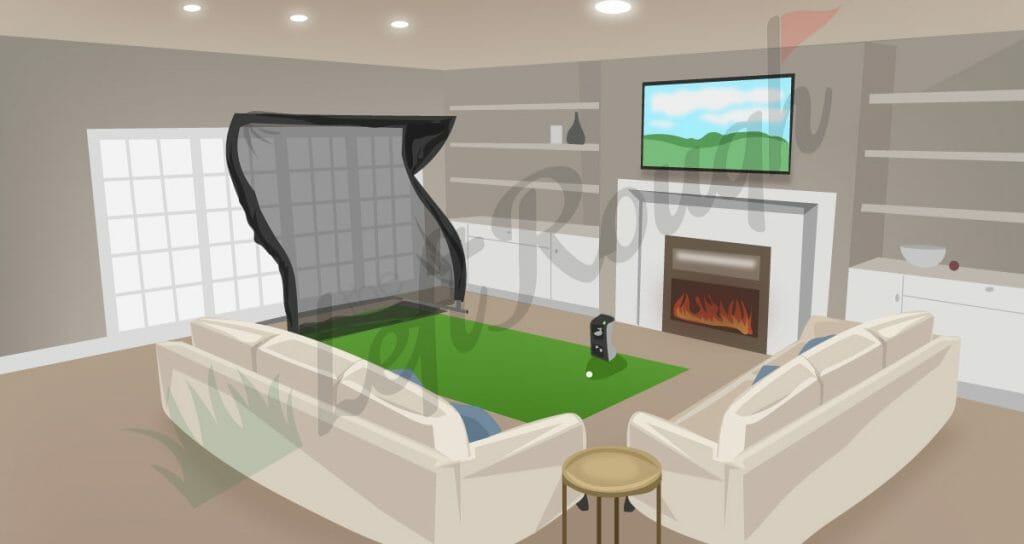 Best Golf Simulators for 2023
1. SkyTrak+ Sig10 Simulator
If you're looking for a full simulator experience, it's hard to beat this SkyTrak+ SIG10. It has everything you need for a total simulator experience with a great price, stand-alone launch monitor, and a ton of other features.
Let's start with what's included in this bundle.
First, it comes with the SkyTrak+ launch monitor which is a compact but efficient device that provides tons of data about your game. It's SkyTrak's newest launch monitor that uses a dual Doppler radar and photometric system.
Overall it's a big upgrade from the original SkyTrak as it now works outside, plus measures more data about your golf swing.
This launch monitor measures both club and ball data including club speed, ball speed, club path, backspin, total spin, carry distance and more. In fact, it comes with 9 ball data points and four club data points to give you an impressive amount of data without breaking the bank. Not to mention you can use it indoors or outdoors which makes it a great year-round golf practice aid.
Another reason the plus model is much better than the original is the 40% larger hitting area gives you the ability to capture all types of shots. It also has a faster "shot to show ability", added 5Ghz Wi-Fi capabilities, and USB type-c charging options.
Unlike other launch monitors you don't have to use special golf balls and/or sticks on clubs either. Simply start hitting inside or outside with your clubs and range balls to start getting valuable insight into your game. This package also comes with a protective case to ensure your investment is safe.
The SkyTrak+ launch monitor comes with a basic software but has the option to upgrade to the Game Improve or Play & Improve software as well. The basic software includes a range while the other two plans come with golf courses and other tools to help improve your skills in practice.
With this bundle the more expensive option is included (Play and Improve) which gives 15 E6 Connect golf courses, 15 WGT golf courses, and the ability to integrate with other software like TGC2019. Needless to say, you'll never have to worry about getting bored playing the same golf course over and over again.
The final big piece of this simulator is the SIG10 screen and enclosure which is one of the most popular options available. The simulator image will fill the entire screen and it has protective foam padding around the screen. Not to mention it comes with side barrier netting as well.
Here's what else is included in this awesome bundle:
Adaptors for the projector.
Panasonic PT-VZ58OU golf simulator projector and ceiling mount.
Landing pad turf made for the SIG 10 golf simulator. This will help protect your floor and looks great too.
While it's not cheap by any means, it has everything you need to get started with one purchase. You can use it as a full simulator or launch monitor with ease.
Pros
Easy to set up.
Everything you need in one bundle and more accessories available.
The SG10 golf simulator enclosure pairs perfectly with the launch monitor to give a full simulator experience. This screen can withstand the hardest hit golf shots with ease, not to mention side barrier netting just in case a shank happens.
The Play and Improve software comes with 30+ golf courses and practice ranges to never get bored. Not to mention it works with other pieces of golf software for even more virtual courses.
Comes with Skytrak protective case which is made of lightweight plastic that can withstand the blow of an errant golf shot. It's still easy to access the buttons and ports as well, not to mention adjustable legs as well.
Cons
Launch monitor doesn't display anything on the device.
Otherwise, not much negative feedback as this is a great launch monitor and all around enclosure.
Here are the dimensions needed for the SIG 10: 8'4"H x 5' D 10'x 10"W. It's important you make sure you have enough space with a purchase like this.
2. 2023 Edition Mevo+ SwingBay Golf Simulator Package
If you're the type of golfer who wants as much data as possible, this is the one for you. This golf simulator package is powered by the Mevo+ which is a massive upgrade from the original version. Don't get me wrong, the Mevo is a great launch monitor but the plus version provides much more data.
The Flightscope Mevo+ has 16 data parameters and if you buy the pro package you get an additional eight data points. Some of these data points include dynamic loft, club path, face to path, swing plane, and more. You can also take this unit to the driving range as well. (You can read our full hands on review of the Mevo + here.)
Not to mention the Mevo+ allows you to overlay your ball/club data with each swing. This makes it easier to understand your good swings and learn what went wrong with less than perfect swings. This simulator also has the Flightscope golf app which works great to study your swing data.
Unlike other simulators the software is included too. This package comes with the E6 Connect which has 10 free courses to play.
The enclosure system is one of the best as well – the SwingBay hitting enclosure. This is custom-made by Rain or Shine Golf and is very easy to set up. It has the perfect dimensions to fill the entire screen, side netting, and a great display wall.
Additionally, it also comes with a life-like hitting mat that uses real tees (available in two sizes). It also has a massive landing pad to have turf from your enclosure all the way back to your hitting mat.
Pros
Portable unit.
Data oriented.
Plenty of skills challenges.
Mevo+ launch monitor works outdoors with the app.
Comes with Flightscope Golf app and E6 connect software.
This is a great unit if you have both righties and lefties in your household!
Cons
No metrics displayed on the device.
Overall, it's a great simulator that has a very small and portable launch monitor. The monitor provides more data than almost any other one out there. Plus, it's so small you can easily take it to the driving range for outdoor practice too. It's a great upgrade from the original Flightscope Mevo.
3a. SkyTrak Practice Golf Simulator (Best Budget Golf Simulator System)
While the first two golf simulators on this list are great, they are also a little pricey. Being on the cutting edge of the latest and greatest technology costs money. But the SkyTrack Practice Golf Simulator is still one of the best golf simulators on the market. This simulator is sleek and looks super professional at a fraction of the costs of some devices.
It has unbelievable accuracy and comes with nearly everything to get your room put together quickly. The minimum room size for the simulator is 8 feet high, 10 feet wide, and 12 feet long.
Here's what included in this golf simulator training bundle from Rain or Shine Golf:
SkyTrak Launch Monitor
Yes, this golf simulator comes with a high-powered SkyTrak Launch Monitor. Although the new plus model gets all the fanfare, the original SkyTrak launch monitor won numerous awards (including Golf Digest) and provides incredible data to help your game.
The launch monitor has incredible accuracy thanks to the high-speed photometric technology and is nearly as good as one's that are 5-10X the cost! Plus, it's super easy to use even if you don't consider yourself very tech-savvy. Not to mention, it connects to your iPad or PC so you can take it to the range or course too.
Rukket Sports Premium Golf Net
This comes with a premium net. Trust me, if you put in the rounds you will see the difference in a cheap net versus a premium net. And if you're anything like me, once you have one of these you will certainly be putting in the rounds.
Gaming Laptop
That's right. With this package you don't even have to buy your own laptop or iPad. You'll get a laptop right out of the box that is designed to run a golf simulator. This fact alone makes it simple and easy to get everything set up and running within minutes.
SwingTurf Golf Mat
Finally, you also get a great turf golf mat as well.
The standard hitting mat with this option is the SwingTurf Golf Mat that measures 5 feet wide by 5 feet deep. What I love about this golf mat is that it will take real tees and with the extra cushioning is really easy on the joints. In my personal opinion, having the good hitting mat is absolutely critical in how you experience your simulator. I've played 1,000s of rounds on my simulator, and a bad / cheap mat will absolutely wreak havoc on your elbows and shoulders.
Other Extras
Another huge perk for this golf simulator is the game improvement package. For your first year, you get access to the extra software like "The Golf Club" to finely tune your game. Some of these features include:
Turf Landing Pad – this goes between your hitting mat and net to make sure your floors don't get wrecked from bouncing golf balls
Laptop Stand – this is a little extra that you'll love. Try not having this!
Ball Tray
Birtees – These little genius tees allow you to tee the ball at varying heights on mats
Total Cost
The SkyTrack Practice golf simulator is one of the best options and just below $5,500 for the entire kit. Plus, with this package you don't even have to supply your own laptop / iPad so you are saving significant money on that fact alone.
Overall, this Skytrak is an awesome golf simulator bundle that allows you to hone your skills from your house! It's nice to buy everything together so you know it fits and is easy to setup.
3b. SkyTrak Retractable Golf Simulator
The next level above the SkyTrak Practice but still cheaper than the first two options is the SkyTrak retractable golf simulator.
This simulator has glowing reviews for its easiness to assemble and comes with everything you need. Plus, it's extremely portable if you'd like to share with a friend or move into a different part of your house.
The recommended room dimensions are 9′ height by 11′ width by 12' feet deep. Similar to the practice version, this comes with the same SkyTrak launch monitor but has a few differences. Here is what is included in this golf simulator bundle:
The Retractable Hitting Bay
Instead of the Rukket hitting net, this package really gives you the feel of being in a real simulator thanks to the high quality screen and retractable enclosure. Instead of looking at your laptop to see the shot, you are actually seeing it projected onto the screen in front of you.
In addition, the Homecourse Hitting Enclosure can retract so that you can save some space when you are not using the unit. Although, in my experience there are very few times I'm not using the unit!
Projector and Mount Kit
With this package, you get a choice of mounting the projector to your ceiling or having the SwingShield floor enclosure. The ceiling mount is sleek and shouldn't take you long to assemble. The only thing you need to mount this is to find a single stud to get it set up. However, I'm a big fan of the SwingShield floor enclosure because of how simple and easy it is. Regardless of your mounting decision, you also get a Short Throw HD projector that will project some really high quality images to your screen.
Full Turf Covering
Unlike the practice version, this package comes with Full Turf Covering which is larger than the Turf Landing Pad. And instead of only getting one, you will get 2 5'x10′ mats to protect an even larger area.
Total Cost
The SkyTrak Retractable golf simulator is right at $8,800 for the entire bundle but you are getting everything you need for a full simulator experience at home. Basically, all you need outside of this package are golf clubs and golf balls!
It goes without saying, we are big fans of the SkyTrak launch monitor and simulators as they are dependable and durable. For more details on the actual SkyTrak launch monitor, read our full review here.
3c. Skytrak SwingBay Golf Simulator Package
Not all simulator packages need to cost more than $10,000!
The SkyTrak SwingBay Golf simulator gives you a solid simulator experience and still saves you some money.
So what makes this such a great simulator? A lot of different features including:
Game improvement features.
Works with multiple software options.
Challenge your friends with peer to peer challenges.
Launch monitor measures more than 15 data points including carry distance, club/ball speed, spin rates, flight time, shot shape, roll distance, and more.
The game improvement features might be some of the best available too. For example, the skills challenges will help you maximize each practice session.
As they said on their website, "Setup skills challenges to make sessions more purposeful. Benchmark performance with saved presets or use the randomizer mode to let SkyTrak choose a random target for you each shot."
The Skytrak also has the "bag mapping feature" to dial in your distances with each club in the bag. This will ensure you don't have any distance gaps and should help you make better club choices on the golf course.
This monitor also has a "shot optimizer" which lets you dive into your club and ball data even more. The peer to peer game is a ton of fun as you can compete in long drives and closest to the pin competitions too. It also has environmental controls to adjust temperature, humidity, and elevation to make your practice rounds incredibly realistic.
Aside from a high-performing launch monitor this package also comes with the SwingBay Hitting Enclosure. This was developed by Rain or Shine Golf based on countless feedback from customers to make a great display. Plus, it can withstand shots up to 250 mph, side nets to protect against errant shots, and more.
The HD Short Throw golf simulator projector also comes with this package. It has 3000 Lumens for a bright image, 1080p graphics, and windshield projector floor enclosure.
One of the few downsides is that this package doesn't include software but the fees aren't much. Since it works with multiple pieces of software (including TGC 2019, E6, and World Golf Tour) you can add those on from $200-$479/year. The TGC is recommended thanks to the large list of courses and multiplayer options.
Pros
SwingTurf Golf mat (two sizes).
Very affordable for a full golf simulator.
Full turf covering included (2 5 x 10 mats).
Environmental controls to match course conditions (great for planning ahead of bucket list trips).
Can work as a home theater or for big screen gaming (just need an HDMI cable).
Cons
No software included.
Might need to buy a USB Wi-Fi adapter if the router is more than 15 feet away.
No laptop included. Even the one you can buy is optimized for TC 2019 and might not work with other software.
Overall, this is a great pick for a lower budget (but still high-quality) golf simulator. The recommended space for this unit is 9'H x 12'W x 16'D. And the bare minimum space is 8'H x 10′ 6″W x 16'D.
Lastly, don't forget that you will need to buy software separately. Rain or Shine Golf recommends TGC 2019 as it has the most amount of golf courses available.
4. Foresight Sports GC3 Golf Simulator Package
Foresight Sports is one of the two most popular launch monitors in professional golf. It seems like every PGA Tour (or LIV golfer) has one of these with them at all times… watch out Trackman! While the GC2 is no longer available this GC3 is a great addition to the Foresight family.
The Foresight GC3 is the launch monitor behind this simulator that tells you more about your game than you could imagine. It has three precision photometric cameras to provide an extensive amount of ball and clubhead data. Metrics from this device include ball speed, club speed, carry distance, launch angles, total spin, and more.
But what makes this unit so great is that it has a touch screen for instant feedback. You can quickly see the most important metrics with each swing without needing your simulator or app. Which means you can easily take this with you to the golf course for efficient practice sessions.
This package also comes with the "perfect" hitting bay from SwingBay. This hitting enclosure is one of the best options available as it has:
Black out walls which provide better graphics.
A military grade screen that can take shots up to 250 mph.
Custom dimensions that allow you to use the entire screen.
Not to mention there are side nets to protect from those wayward shots too. You also have the option to buy the landing mat so you have turf from your hitting mat to your screen.
The projector is the HD Short Throw matches great with the SwingBay as well. It has 3000 Lumens for high-graphic images, HDMI connectivity, and full 1080 HD graphics. Unfortunately, you still need a compatible laptop or iPad to make this work.
Pros
Everything you need in one purchase.
Comes with a Swing Turf golf mat (two sizes to choose from).
Mid-range price (when compared to other high-end simulators).
Doubles as a home theater and can buy an HDMI wireless receiver as well.
Foresight launch monitor is outdoor compatible and easy to take with you to the golf course or driving range.
Cons
No accessories included.
Only 10 golf courses are provided in the FSX software.
Otherwise, not many cons here if you're looking for an all-in-one golf simulator with a high-end, outdoor compatible launch monitor.
Overall, the Foresight GC3 simulator package is one of the best deals out there. You get the high-end Foresight simulator which you can take to the course or driving range as well. Plus, it comes with the highly popular hitting enclosure for a complete, all in one package.
If this is the golf simulator for you, make sure you have the space which is 9′ High x 12′ Wide x 16′ Long.
5. Optishot 2 Simulator Bundle (Best Entry Level Golf Simulator)
The Optishot 2 Simulator Bundle is a very low-cost but effective golf simulator. It gives you almost everything you need to create your own residential home simulator.
The Optishot platform makes this a top pick as it's great for all golfers and lets you play up to four players. It also has different games, weather conditions, multiple camera views, and more. It's like you're watching yourself on the golf course with this amazing technology!
While it doesn't come with a fancy screen or net, it simply connects to your laptop or computer or projector with a USB cable. Inside the bundle you also get the USB enabled hitting mat and two practice balls that sync with your computer.
All you need is a net or screen and a stance mat if you want. Simply connect it to your Mac or Windows computer or laptop to get going.
The Optishot 2 simulator is preloaded with 15 courses like Torrey Pines, TPC Scottsdale, Twisted Twig, and others. Plus, you can join "Season Pass" to take your skills to the next level. This is an online tournament platform that lets you play with your friends and compete all over the world.
At a very affordable price, this is a great low-cost way to own your own home golf simulator.
Even though it isn't as advanced as some simulators on this list, it can still help you track your ball speed and some additional data points. If you're a high handicapper and want to improve, this is for you.
Click here for a detailed review of the Optishot 2 golf simulator bundle.
6. Uneekor Eye XO2 SwingBay Golf Simulator Package
If you're looking for a high-end at home simulator the Uneekor Eye XO2 is hard to beat! Like a lot of others on this list it's an all-in-one package to make your setup (and life) a lot easier.
Here's what's included in this premium simulator:
Projector and enclosure.
Uneekor launch monitor and software.
Choice of golf mat size + landing mat turf.
Hitting enclosure net and screen (plus side netting).
The projector full HD 1080p resolution with high contrast and 4000 lumens for a bright, clear image. This overhead launch monitor and simulator provides more than 20 data points for ball and club data.
Not to mention it has built-in swing analysis tools as well to help your game without getting golf lessons. You can also upgrade your simulator for more driving ranges, mini-games, and additional golf courses too.
There were also some major updates to this system as well. Here's what Rain or Shine Golf said about the improvements. "Updates to EYE XO2: 3 High-Speed IR Cameras, Larger Hitting Area (28″ wide x 21″ deep), can setup multiple hitting zones (Tee Position, Fairway, Rough, Bunker)."
While the projector, monitor, and software are great, the enclosure is amazing too. It has built-in blackout walls and it's easy to assemble with their framing system.
The SwingBay enclosure is one of the best as it has dimension to fill the entire screen, side netting to help with those terrible shots, and a military grade screen that can stand shots up to 250 mph. Needless to say, you could probably let Bryson DeChambeau come over to speed train and it can withhold the power.
The golf mat that comes with this simulator is also high-quality as it has a fairway like feel. It works with real tees and should help relieve tension on your joints too.
A full turf covering is included so you have turf from your mat all the way to the screen too. No more worrying about balls bouncing off the ground.
Pros
Everything included.
Doubles as a home theater.
Full turf covering plus several mat sizes.
High-end simulator that has built-in swing analysis.
Great software with the option to invest in even better software too.
Cons
Gaming laptop not included.
Overhead monitor is harder to install.
Premium simulators come at a premium cost.
You also have the option to invest in a golf simulator gaming laptop as well. This will ensure you have no lag time and ensure it won't freeze while you're playing a golf course. If you're spending this much on a simulator I'd recommend it because it's very frustrating when this happens and sometimes need to reboot your laptop.
If this is the simulator for you make sure you have the recommended space of 9'H x 12'W x 16'D. While the minimum space is 9'H x 10′ 6″W x 16'D.
Additional Golf Simulator Options
While those are some of our favorite golf simulators to use in your house or garage (with real clubs and balls), we have a few other options too.
Phigolf Mobile and Home Smart Golf Simulator (with Swing Stick)
If you're on a tight budget and have almost no extra space, you'll love the Phigolf Mobile and Home smart Golf Game simulator. With this simulator, no net, balls or clubs are needed making it truly unique but still worthwhile.
This is almost like a video game more than a regular simulator but can still help you enjoy golf from home. The biggest downside to it is that you don't use real clubs and instead use the swing stick that is included.
Here's how it works, plug in the battery to the provided Phigolf practice club. Then, simply connect the app to your TV and start playing or practicing.
The cool part about this simulator is that it has all kinds of features for golfers including:
Virtual practice range
Helps you set practice goals
Online or local multiplayer capabilities
Phigolf ability (PA) test to check your progress
Optional putting game to work on your putting abilities
While it's not a full on simulator, it's better than nothing and has earned rave reviews online. Not to mention, this is also a great way to introduce your kids to the sport!
Rapsodo R-Motion Golf Simulator & Swing Analyzer
If you're brand new to owning a home golf simulator and don't think you can afford one, think again. The Rapsodo R-Motion is not only a simulator but a swing analyzer as well.
The best part?
It's one of the best and most affordable home golf simulators on this list. While it's not as high tech as others you will read about, it's a great starting point in creating your at home setup and extremely easy to use (as their slogan goes, "Clip it, grip, and rip it").
The Rapsodo R-Motion attaches to your own golf clubs and then delivers the results via USB cord to your PC computer. The device also comes with tons of useful data to help you improve your game including ball speed, smash factor, club speed, swing path, distance, and launch angle. It will even let you know how far you sliced or hooked the ball based on side spin.
All you need to make this golf simulator work is a net (or screen) and hitting mat. The simulation software does the rest.
Then, attach the tracker onto the shaft of the club and hit away with any club in the bag. The results are delivered to the computer in a super clean interface that has tons of valuable data.
The golf simulator/launch monitors allows you to play 15 different courses at a fraction of the cost of most on this list. I couldn't recommend this simulation software more, especially if you're just getting started.
TruGolf Simulators
While SkyTrak is a very popular brand for golf simulators, let's not forget about TruGolf either. These models cost more but provide a more immersive experience and incredible upgrades for your at home setup.
TruGolf is the industry leader in high-end golf simulation that come in a variety of different options depending on your budget and room requirements. There are three main golf simulators that you can choose from.
TruGolf Vista Series Simulators
The portable golf simulators from TruGolf are a fraction of the cost of the free-standing and built-in models but are still amazing devices. The Vista 8, Vista 10, and Vista 12 are all amazing choices that you won't regret. Each one is slightly larger than the previous model and also has even better technology as well.
E6 Connect Software
What makes a golf simulator so great is that it feels like you're playing at world-class golf courses from the comfort of your home. The software is what separates brands and the E6 Connect is known as "the future of golf."
This software is great whether you're hitting balls on the virtual driving range or playing a virtual round with family and friends. All three units come with the E6 Connect Golf Simulator software that allows you to play incredibly realistic golf courses.
Turf with TruTrack2 Tracking System
While the software and screen are a huge upgrade from SkyTrak, another perk is the TruTrack2 tracking system. This provides incredibly accurate shot tracking as it's positioned underneath the hitting surface.
Not only does this leave your room clutter free, it gives you even better data. Thanks to their three rows of high-speed sensors, it can track your club path, face angle, and more to provide invaluable feedback.
Total Cost of Trugolf Vista
The Vista 8 Base Unit starts at $9,445 and comes with the projector, impact screen, one-year subscription and TruTrack to help improve your game. The other models in the Trugolf Vista collection range from $15,000 to $20,000 depending on which upgrades you choose to add on.
The screens are so clear it looks like you are actually playing the real golf course. It's amazing how good the technology is with these simulators!
TruGolf Free-Standing Simulators
The next version of TruGolf simulators are their freestanding version.
Both versions (Premium & Signature) are designed for lasting performance and can work at home or at an actual golf facility. There isn't any pricing for these devices as they are highly customized, but it's safe to say they're more than the Vista Series which aren't cheap.
TruGolf Built-In Simulators
The best that TruGolf has to offer is their built-in simulators. There is both the Horizon monitor and the ability to 100% customize one as well. These function not only as golf simulators but full on entertainment centers.
Similar to the Free-Standing models, price by quote only so make sure to have your checkbook ready for this option. For more information, check out our detailed review of the TruGolf simulators.
Trackman Golf Simulator
If you're an avid golfer you've probably heard of the brand, Trackman. It's known by elite golfers as the end all, be all of golf gadgets. This Tour-proven device is only used by the best players in the world or people with a lot of extra money to spend on a golf training aid.
But with the Trackman Golf Simulator, not only do you get all the Trackman launch monitor features, you get the simulator as well. This device is custom-made for your home, office or garage. Because when you're spending that type of money, why not right?
While the price point is outrageous for most people, the simulator is nothing short of amazing. It's 3D virtual golf at its finest and seriously looks like you're playing the actual course. It'll deliver all sorts of data from launch angle, swing speed, ball flight, and everything else you could imagine.
The library of courses is insane too. It includes courses like PGA National, St. Andrews, Muirfield Village, and other top golf clubs.
Trackman even made a cool feature that allows you to practice the hardest shots that are feared by even tour players on your favorite course. It's a fully immersive experience that delivers on the high price tag.
Add this one to your bucket list and you might not ever have to play a real round of golf again!
Golf Simulator System Accessories
With so many options, you might still need one or more of the following accessories if you choose to not buy a bundle. Here are our favorite picks from Rain or Shine Golf to help make your man cave complete.
Hitting Bays
If you want to make sure that no ball leaves your hitting area and has plenty of space, a hitting bay is a great investment. These go around your screen or net and ensure that no ball leaves wanders off.
Here are two of our top picks from Rain or Shine Golf:
SwingBay Golf Simulator Screen & Enclosure: If you want the best simulator setup possible, you'll love this screen and enclosure setup. Just make sure you have the space available: 9 feet high, 12 feet wide, and 16 feet deep. Projector not included.
HomeBay Golf Simulator Hitting Enclosure: If you don't need as high tech of a screen and want additional enclosure, this is a cheaper option. Included is a ballistic tested impact screen, ceiling net (make sure to check ceiling height before buying), and side nets.
Golf Mats
One of the most important pieces of equipment for your simulator is your hitting area. Since you aren't likely to hit off real grass, it's important to find the right hitting mat for your setup. Luckily, mats are more advanced than ever and come a long way since the old clunk mats you would see at your local golf course.
Here are some of our top picks:
SwingTurf Golf Mat: This mat is a go-to choice for any golfer who wants to practice at home without risking any injuries. The mat is designed to make it feel like you're hitting from grass but is much easier on your joints and body. It even lets you put a real wooden into it just like you're on the driving range or course. This one is 2" thick and comes in a 4'x5' or 4'x9' sizes.
Fiberbuilt Launch Monitor Studio Golf Mat: If you want an even larger mat with multiple hitting surfaces, you'll love this option. Not only is it larger than SwingTurf, it has a 300,000 shot guarantee!
For more hitting mats, head over to our full review of golf hitting mats that would work great for your simulator setup.
Other Accessories
Optoma HD Short Throw Golf Simulator Projector: The final accessory to complete your simulator system is a hiqh quality projector. This one is included in several bundles and available to purchase separately as well. Here is another option to purchase the Optoma projector.
Other Golf Simulator Tech: Finally, if you want someone to hand you all the tech stuff without piecing it together yourself, you'll love this page. Here you can find all the other stuff you'll need such as a gaming laptop, laptop stand, protective sleeve, HDMI wireless receiver, to help get you set up quickly.
Golf Simulator Package Comparison: What You Need to Know
As you can tell, investing in a golf simulator can set you back a few hundred bucks or tens of thousands of dollars. It's important to find the right one for your budget and home.
Here is what I would recommend comparing them so you find the best golf simulator this year.
Screen or Net?
Choosing between a screen or net is one of the biggest decisions when purchasing a golf simulator. In a perfect world, I would always recommend an impact screen if possible. Paired with a really good simulator projector, an impact screen provides a realistic look at your ball flight and gives you additional insight that a net simply can't offer.
But if you don't have the space or money quite yet for a hitting screen, a net will still work as long as you have a computer, TV or iPad to stream your shots. With a lot of the simulators you can plug them into one of these three devices and it will act as your screen. (Click here for a full review of golf nets).
Plus, you will still receive a lot of the data, if not all, to better understand your game. If you want the full effect, you can also purchase this golf simulator enclosure to create a fully immersive experience as well.
Finally, don't forget about side nets as well. These attach directly to your screen and make sure that any stray balls don't damage your house or garage.
Size of Golf Simulator
As you can imagine, one of the biggest considerations for a golf simulator is the size it will take up in your home or garage. Most of them on this list are between 10-12 feet wide and 10-12 feet high. When you do get one, make sure that you safely swing your driver at slow speeds to ensure there is plenty of space for a full swing.
If you don't have this type of space available, make sure to check out some portable simulators mentioned above. These are much more convenient if you have a smaller space but still want to get started.
Price
The price of your golf simulator is another big decision as the price range differs greatly. Make sure that you buy one that won't break the bank but is quality enough to last for you a few years or more. Remember, you can always buy a more advanced, upgraded one in the future!
Also, depending on where you buy the simulator, some of them offer pricing options as monthly installments for a fixed time frame. Make sure to read the fine print and understand how the financing works for any big purchase before pulling the trigger.
Real Golf Balls vs. Practice Golf Balls
Another thing to consider when comparing simulators is to determine if you hit a real golf ball or a practice ball. Unfortunately, not all devices are equipped to hit real golf balls. Personally, I would buy one that allows you to hit a real ball to stimulate the same conditions as if you were playing or practicing outside.
Courses Available
One of the perks of a golf simulator is being able to play a course that is difficult or expensive to play in real life. The software your simulator uses dictates what coursed you have. Remember that some simulators and their yearly plans include a lot more courses than others.
I recommend choosing one that has a good selection of courses preloaded and ask if they continually update the selection. Of course, it's not going to be like playing Pebble Beach in real life, having different courses is part of the fun of having a simulator.
Usually, they have some sort of subscription that you can pay for to keep getting new courses and access to upgraded practice features.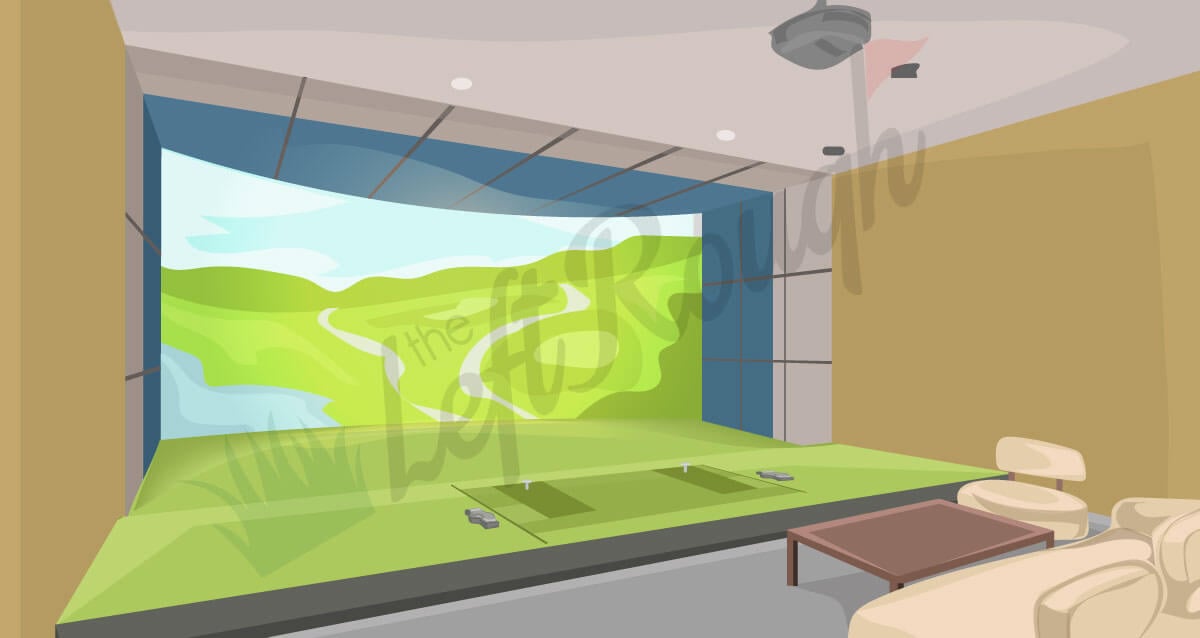 FAQs about Indoor Golf Simulators
Do you have more questions about finding the right indoor golf simulator package? If so, hopefully you'll find the answers you need to help you in your buying decision below.
What is the difference between an indoor golf simulator and launch monitor?
This is a good question as it's a little confusing if you've just started your search and want to find the right golf simulator for your game.
Golf simulators are more about providing an experience as if you were playing a round anywhere in the world. While launch monitors are devices to help you learn more about your swing and game.
But they are an integral part of your golf simulator as they provide the necessary data. Launch monitors provide data such as spin rate, apex, launch angle, distance, but don't let you play a course.
But if you only own a launch monitor, you can still take it to the range or course and hit it into a net in your backyard or garage. These don't show you where the ball is going and won't let you play epic golf courses like the ones on this list.
Depending on the golf simulator you go with, some of them will provide a lot of the same data as well. If you're not quite ready for a full-on golf simulator yet, make sure to check out the best golf launch monitors to find the right one for your game.
Is Trackman the same as a golf simulator?
Unfortunately, no, they are not the same. A Trackman is a highly advanced launch monitor that is commonly used by PGA and LPGA Tour professionals. These devices alone are very expensive, but will provide every detail you need to know about your golf swing.
While a lot of the simulators have a ton of great data, the Trackman is the next level. They do offer their version of a golf simulator but it's one of the most expensive that you can invest in. But paired together, you might become unstoppable.
What is the best golf simulator under $5,000?
As you can tell, there are a ton of great options out there. But if you want an inclusive bundle, I recommend going with the SkyTrak Practice Golf Simulator Package. Although this package costs right at $5500, it really has the best bang of your buck that you will find in this price range. SkyTrak makes it simple and easy to get started quickly.
This package comes with its own gaming laptop, so you are saving some extra cash right out of the gate. Please make sure to double-check your budget and the space needed so you don't break the budget (or a window).
How much is a full swing golf simulator?
If you buy one of the first few options on the list, they are about $500 but don't include full screens or enclosures. These are more of "starter" kits before investing in a full on simulator.
Most golf simulators range between $3,000 to $10,000 or more per unit. The more expensive units usually last longer, deliver better results, and let you play a wider variety of golf courses from the comfort of your home.
Since this is one of the more expensive investments you'll make in your quest to shoot lower scores, it's not a decision you want to make on a whim.
What is the cheapest golf simulator?
Like any golf gadget, you get what you pay for with an indoor full golf simulator. Some of the golf simulators listed are a few hundred bucks, while some of them are $30,000 (or more). Make sure you find a simulator that works for your budget but also save enough so you have plenty of money leftover for golf trips and rounds outside.
I wouldn't base your purchase solely on price alone as there are so many other factors including your total space, how often you intend to use it, and more.
How much room do I need for an indoor golf simulator?
Every simulator is different so make sure to double-check the recommended room dimensions above. Always check your ceiling height so you don't do any real damage to your house or garage.
Installing them in your garage is always a great idea as you tend to have more room and some are retractable as well. This makes it easy to park your car and still follow a game improvement plan at home.
If you don't have the room at your house, creating an outdoor golf simulator is your last option. But make sure you are aware of the limitations with outdoor simulators before you invest any money in this option.
Read our full article on Golf Simulator Room Dimensions to make sure you have enough for your particular setup.
How accurate is a golf simulator?
Even the fairly inexpensive indoor golf simulators are pretty accurate. Obviously, the more you spend, the more accurate the units are and typically deliver better results. High-end units measure much more data and therefore can project more accurately.
Are golf simulators worth it?
In my opinion, yes, a golf simulator is 100% worth it!
They let you hit the range and play amazing courses without leaving your house to create a fun golf experience. Plus, with all their new software, you can also compete with friends, family, and fellow golf enthusiasts around the world.
They are great if you have a busy schedule but still want to hone your skills. Not to mention, they are more affordable than ever before. If you're obsessed with golf and can't get enough of this sport, I know you won't be disappointed!
Final Thoughts on Best Golf Simulator Package
There are so many options when it comes to choosing the best indoor golf simulator setup so it's important to read this article a few times.
First off, I'd recommend reviewing the space you have available as this will dictate which type of simulator to buy. Then, I would review the budget you have and the total amount you are willing to pay. Don't forget, not every golf simulator comes in a total bundle and oftentimes you need to buy a hitting net, screen, mat, and other accessories.
Lastly, where you live plays a big role as well. If you live somewhere with 3-6 months of non-golf weather, maybe spend a few more bucks on the simulator as you'll likely use it a lot more.
While golf simulators and launch monitors are great, don't forget to get out there and enjoy real golf with friends and family. Hopefully, you found one full golf simulator to buy today and another one to dream about for the future.